Welcome to monad, a service provided by monad.social, PBC.
By using the Website or any of the Services, and in particular by registering on monad, you are consenting to the use of your personal information in the manner set out in this Privacy Policy.
Like most websites monad, uses cookies. If you choose to use the Platform without blocking or disabling cookies or opting out of these technologies, you will indicate your consent to our use of these cookies and other technologies and to our use of any personal information that we collect using these technologies. If you do not consent to the use of these technologies, please be sure to block or disable them using your browser settings.
Please take some time to read this Privacy Policy and make sure you are happy with our use and disclosure of your personal information.
If you do not agree to any of the provisions of this Privacy Policy, you should not use the Website, the Apps or any of the Services.
If you have any questions or concerns, you can contact us at Info@monad.social
Please note that this Privacy Policy only applies to the Website and the Services (together, the "Platform"). When using the Platform, you may find links to other websites, apps and services, or tools that enable you to share information with other websites, apps and services. monad is not responsible for the privacy practices of these other websites, apps and services and we recommend that you review the privacy policies of each of these websites, apps or services before connecting your monad account or sharing any personal information.
Information We Collect About You
We collect personal information about you from various sources:
You don't need to provide us with any personal information in order to visit the Website. However, certain Services do require that you register for monad, and, by doing so, you will provide us with certain personal information:
Information Provided by You
Information We Collect Automatically
There is certain information that we collect automatically as the result of your use of the Platform, or through the use of web analytics services. This information includes:
Information from Other Sources
monad allows you to sign up and log in using your Twitter or Google Plus account. If you sign up on monad, each one of these companies will ask for your permission to share certain information (including possible personal information) from your account with monad. This may include your first name, last name. gender, general location, a link to your profile, your time zone, date of birth, profile picture, your "likes" and your list of friends, followers and/or subscribers.
This information is collected respectively by each Company and is provided to us under the terms of their Privacy Policies. We encourage you to read them. You can control the information that we receive from these Companies by using the privacy settings in your accounts with them.
You can delete your own user data on monad.social on Account Settings page.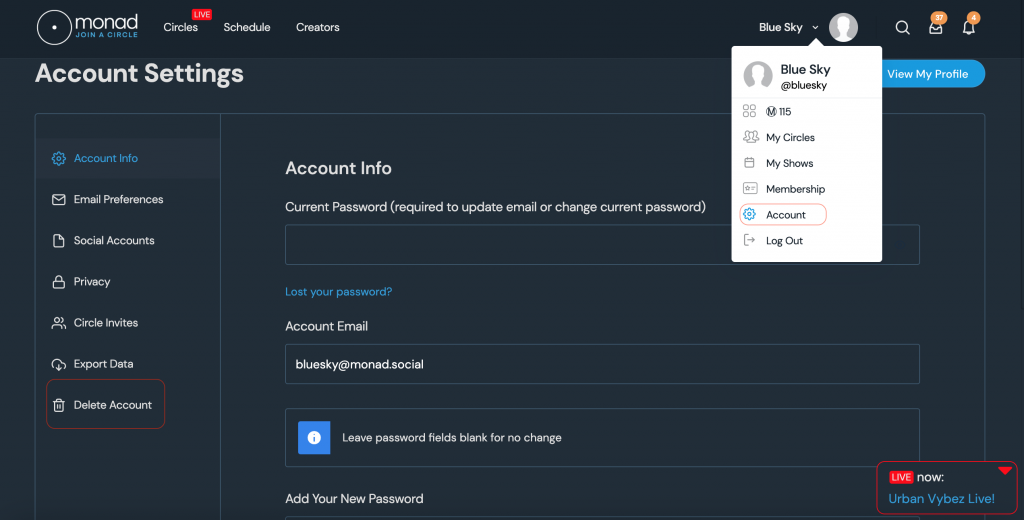 Follow the instructions in Delete Account section to completely delete your account and your user data.
We use the information that we collect about you for the following purposes:
How We Use Your Personal Information
Your personal information may also used for the following general purposes:
Sharing of your personal information
We will not share your personal information with any third party, except as described in this Privacy Policy.
There are circumstances where we may need to share some of the personal information we collect about you or which you provide to us – these circumstances are as follows:
As is common with most websites, we use cookies and other standard Internet technologies to help us improve the Website and the Apps and Services we provide. We Only Use Cookies for User Sessions and to improve the experience while using the Platform. We do not collect nor store Personally Identifiable Information via Cookies nor do we use "3rd Party Cookies."
Cookies and similar technology
If you choose to use the Platform without blocking or disabling these cookies or opting out of other technologies, you will indicate your consent to our use of these technologies and to our use (in accordance with this Privacy Policy and our Cookies Policy) of any personal information that we collect using these technologies.
International data transfers
monad.social, PBC and monad are based in the United States of American, and your personal information is collected, stored, used and shared in accordance with US privacy laws. You should be aware that privacy laws in the United States may not be equivalent to the laws in your country, and by using the Platform, you consent to the transfer, storage and processing of your personal information in the United States in accordance with this Privacy Policy and applicable law.
monad is not intended for use by children. Anyone under the age of 13 is not permitted to use the Platform and must not attempt to register an account or submit any personal information to us. We do not knowingly collect any personal information from any person who is under the age of 13 or allow them to register an account. If it comes to our attention that we have collected personal data from a person under the age of 13, we will delete this information as quickly as possible. If you have reason to believe that we may have collected any such data, please notify us immediately at Info@monad.social.
Changes and Updates to this Privacy Policy
We may occasionally update this Privacy Policy, and when we do so, we will also revise the Effective Date set out below. Any changes to our Privacy Policy will always be available here so that monad users are always aware of what information we gather, and how we might use and share that information. Please be sure to check back here from time to time to ensure that you are aware of any changes to this Privacy Policy. Any material changes to this Privacy Policy will be communicated to registered users by a notification to their account and/or by posting a notice of the change on the Website.
If you have questions about this Privacy Policy, want to suggest changes to this Privacy Policy or want to know what information we store about you, please contact us by email at Info@monad.social.
If you have questions about this Privacy Policy, want to suggest changes to this Privacy Policy or want to know what information we store about you, please contact us by email at Info@monad.social.
Effective Date: Jan. 1, 2023