Give your fans more reasons to tip: NFTs are LIVE
Calling all Creators! Load your art, NFTs for tipping are LIVE
With more great features stacked up and on the way soon!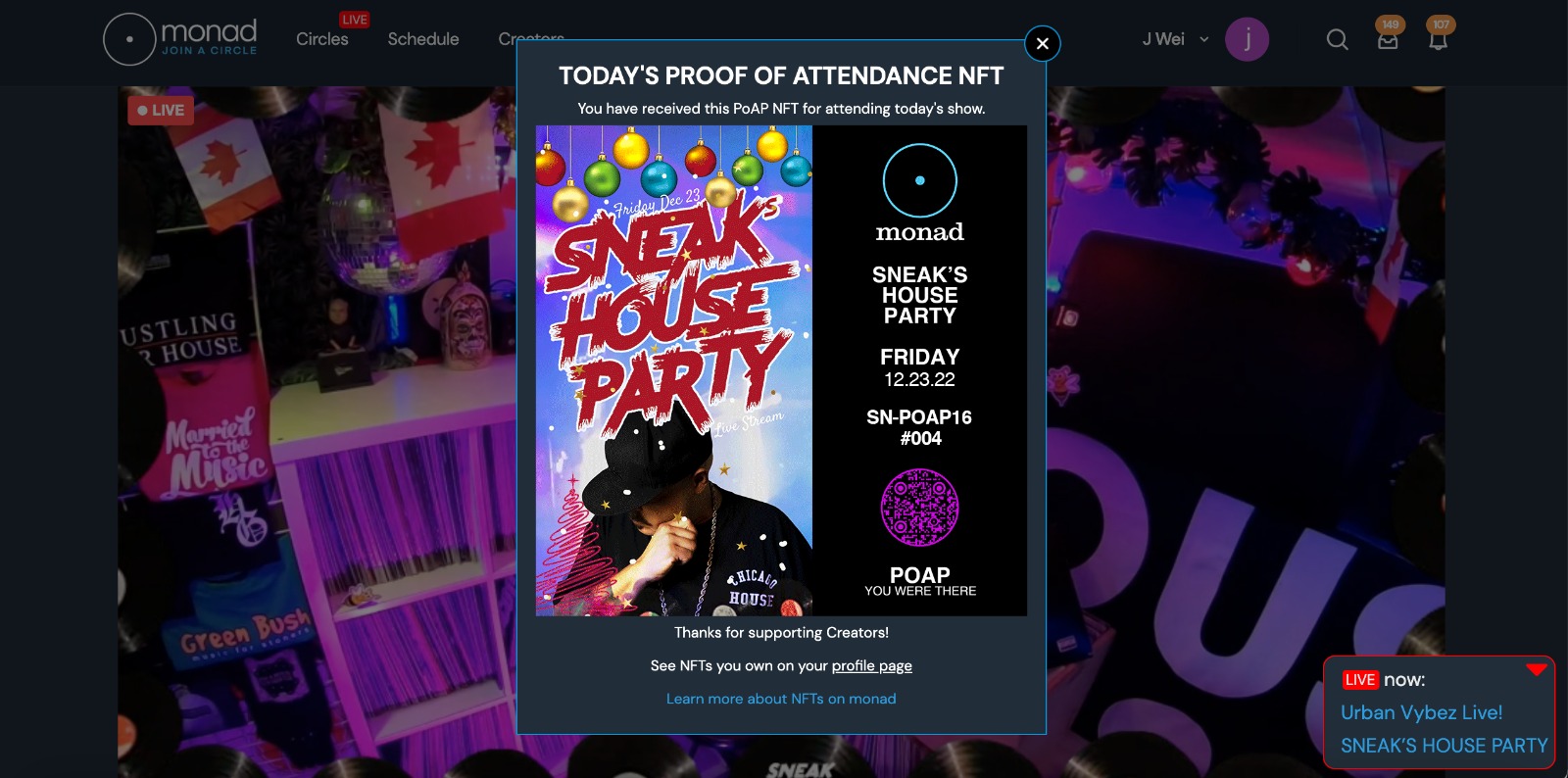 Monad has launched NFTs as an exciting way to share your brand and visual content with fans in return for tips and showing up regularly for shows. We have already seen increased average tip amounts from collectible NFTs.
You have multiple options and opportunities to reward your fans. Creators can configure NFTs their fans collect for attending live shows or tipping. All collected NFTs are displayed on fans' profile pages and are another great way we have enabled fans to show support and connection for you.
We are here to help you through this process. We want to see lots of amazing art, excited fans and most importantly – rewarded creators.

Go to your Circle Dashboard and start uploading digital art for your NFTs!
What's next for Web3 on Monad?
NFTs are just the start of Monad's adoption of emerging Web3 technologies that, we believe, will revolutionize the social experience of enjoying music and other forms of entertainment online, and strengthen the bond between creators and their fans. Here's a peek into the next Web3 features we're working on:
$Monads Token – our native digital currency fungible token used to award creators and fans for participating in livestreams and contributing to Circle communities.
Virtual Dance Floor – an augmented reality experience where fans can express themselves visually during Circle livestreams (and even earn some $monads in the process).
Monad Creator DAO – a community governed organization designed to collect and distribute funds to financially support creators in every part of the world.
More Uses for NFTs – Exclusive Creator playlists and songs, unlockable content for Circle live chat, fan profile customizations and more.
Monad Metaverse – Concepting a fully virtual, immersive, live event metaverse experience.
Monad Web3 is built on NEAR Protocol, a leading creator-centric blockchain platform. Check them out at https://near.org/
Disclaimer: If you're new to crypto and NFTs, getting started can be a little challenging.
There is a learning curve, but having your own Web3 wallet won't be necessary at the start to enjoy the benefits on Monad and we will help explain the basics as we release new features.
Monad's mission is to make a better economic and creative world for our creators. Web3 is creating a new paradigm where technologies can be used to reimagine the way creators and their projects can be funded, enhance how content can be experienced by fans, and give more flexibility and certainty around content ownership, distribution, and monetization.
If you share our excitement for the future of virtual social entertainment and the Web3 creator economy, feel free to reach out at info@monad.social – we would love to hear from you and we're excited to be on this journey together!
To read more about NFTs and Web3 on Monad click here!
Much Love! – Team Monad